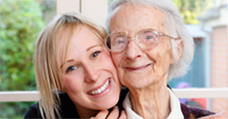 May 2013
| S | M | T | W | T | F | S |
| --- | --- | --- | --- | --- | --- | --- |
| | | | 1 | 2 | 3 | 4 |
| 5 | 6 | 7 | 8 | 9 | 10 | 11 |
| 12 | 13 | 14 | 15 | 16 | 17 | 18 |
| 19 | 20 | 21 | 22 | 23 | 24 | 25 |
| 26 | 27 | 28 | 29 | 30 | 31 | |
| | | | |
| --- | --- | --- | --- |
| Caregiver Champions Blog | | Enlarge Text | A A A |
Author Kleinman on Caregiving
PBS: Religion and News Ethics
BOB ABERNETHY, correspondent: At Harvard University, Arthur Kleinman is a medical doctor, a professor of both psychiatry and anthropology, and the director of Harvard's Asia Center. Until 2003, life had treated him well. He was widely respected professionally, and he and his wife, Joan, a China scholar, had a happy marriage, with grown children and grandchildren—and then calamity. Joan Kleinman developed a form of Alzheimer's disease that brought both dementia and blindness. Arthur Kleinman became her caregiver.
PROFESSOR ARTHUR KLEINMAN: It is love. It's about the fact that you are there. This was the deal you made when you got married. The deal was to be there for that person, them for you. I helped her bathe, helped her dress, helped with feeding, and the feeling I had, I would say, was generally one of empowerment, to my—which was remarkable especially at the onset, that I just felt that as I learned to do the things and did them I felt a hell of a lot better, and I felt I was really contributing. I also felt it was self-strengthening in some way. It reaffirmed my love and my commitment to her, and over time, though, I think it drains you emotionally and physically as the requirements get greater, as you have to help your spouse out of bed, take them to the bath, make sure that they are safe in getting into the bath, getting out. You are constrained as the other person really begins to disintegrate in front of you, so my wife's dementia led to a delirium in which not only didn't she recognize me and the like, but she would be at times incoherent, flailing wildly, very paranoid about me and others because of the sense she couldn't see and couldn't understand what was happening.
(Read More >>)
The most devoted family caretakers are at risk of dying first themselves. Survival strategies from the author of 'Passages.'
Newseek
Fifty is the gateway to the most liberating passage in a woman's life. Children are making test flights out of the nest. Parents are expected to be roaming in their RVs or sending postcards of themselves riding camels. Free at last! Women can graduate from the precarious balancing act between parenting and pursuit of a career. Time to pursue your passion. Climb mountains. Run rapids. Rediscover romance. You have a whole Second Adulthood ahead of you!
That has been the message of my books since I wrote
New Passages
15 years ago. What I didn't see coming was the Boomerang.
With parents living routinely into their 90s, a second round of caregiving has become a predictable crisis for women in midlife. Nearly 50 million Americans are taking care of an adult who used to be independent. Yes, men represent about one third of family caregivers, but their participation is often at a distance and administrative. Women do most of the hands-on care. The average family caregiver today is a 48-year-old woman who still has at least one child at home and holds down a paying job.
By Greg Perkins, MA HelpSource
If we take the time to sit back and look around us, we can determine in a short period of time what is comforting and what is annoying or agitating to us. A comfortable environment is one that we gravitate toward and have warm relaxed feelings about. We judge places in a few seconds on the information we receive through our five senses on how comfortable we will be there.
Many studies over a number of years have supported the idea that environment is a critical component on one's feelings and behavior. Below are listed a number of ideas and suggestions that can be utilized in changing the environment in a positive manner.
(Read More >>)
Helpful hints on how to reduce some of the stress of caregiving has been written by Jean F. Wales, Author of Do it Now, An Organizing Handbook for Seniors and Family Caregivers
Stress is the name of the game if you are caring for an older adult. It doesn't matter if the care recipient lives with you, lives alone (with or without needed help) or in a residence where help is provided 24/7, 365.
You know that you are responsible for this person's well being and health care. Do you feel up to the task? Not to worry … most of us who are caregivers often have days when we know we are not doing the best possible job. So, give yourself a break and take credit for what you are doing well.
Journaling is a fantastic way to let go of some of your stress. As often as possible, write down what you are feeling, make a list of your achievements and give yourself a pat on the back.
(Read More >>)